2.5 Dimension Dance Live "Tsukiuta." Stage: Lunatic Party
(2.5次元ダンスライブ「ツキウタ。」ステージ 第4幕『Lunatic Party』,
2.5-jigen Dansu Raibu "Tsukiuta". Suteeji Dai-4-maku "Lunatic Party"
), or in short referred to as
LunaPar
, is the fourth of a series of dance live adaptations of the Tsukiuta..
The performances will be held at the Roppongi Blue Theater from October 11 to October 15.[1]
Main Cast
Edit
Side Cast (Dorm's animals)
Edit
Stage Original Characters
Edit
Nomura Tomoya (野村友也) as Magician's Cat
Nakazawa Takanori (中澤隆範) as Magician (double role with Diablo)
Yamamoto Tsunetomo (山本常文)
Kosuge Tatsuya (小菅達也)
Matsuki Riku (松木里功)
kizuku
Ishii Yuki (石井裕貴)
ZENSUKE[2]
Vocals for Dance Live Song Setlist
Edit
Original Creator, Screenplay: Fujiwara (Movic)
Character Design: Jiku
Direction: Nomoto Jun'ya
Main Theme Song: Machigerita
Choreography: Ookatsu Kaori
Costume: Yoshida Miho
Make-up: Nishimura Yuuji, Sugita Tomoko
Music: Hashiyama Kanako[2]
Song Setlist
Edit
Original Songs
Edit
In addition to set of songs that will be used for the dance live, there will be four original songs that will be performed by the cast. All songs are composed by Machigerita.
Used for the Drama Part
Edit
Used for the Dance Live
Edit
Promotional Videos
Edit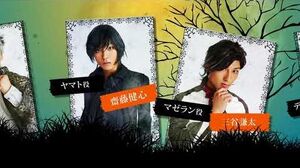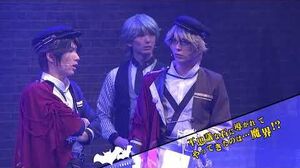 References
Edit
Ad blocker interference detected!
Wikia is a free-to-use site that makes money from advertising. We have a modified experience for viewers using ad blockers

Wikia is not accessible if you've made further modifications. Remove the custom ad blocker rule(s) and the page will load as expected.