Tsukino Park (ツキノパーク, Tsukino Paaku), or TsukiPa (ツキパ) for short, is a free mobile application developed by Movic Co. Ltd. for both Android and iOS devices. It features five mini-games and characters under Tsukino Talent Production.
Installing the Game
Edit
Tsukino Park is available on Android and iOS mobile operating systems. The game can be downloaded into your mobile devices via Google Play for Android users, and the Play Store for iOS users.
For those that may encounter problems such as the game being available in the user's country, or incompatible devices, the game can be downloaded off QooApp.
Creating Your Account
Edit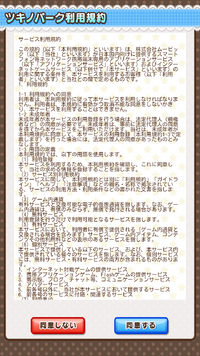 For first time players, the game will require you to agree with their policies (in Japanese), which are displayed on this screen. Pressing the button on the right (blue) means you agree to abide by their policies, while choosing the left button (red) is otherwise. Without agreeing to their policies, the game will not proceed to creating your account.
Player Information
Edit
Once you have agreed to their policies, the game will ask you to fill in your player information. From top to bottom, the fields asked for are:
Your (player) name: Maximum of 12 characters only.
Password: Instead of a transfer code, the game will ask you to set a password for your account. When transferring devices/data, you will need your user ID and password to load your data on your new device. Minimum of 6 half-width characters, maximum of 16.
Re-enter your password.
Location: For users not in Japan, the last option on the list is "世界", or "the World", in general. This isn't terribly important information and it will not affect your game.
Favorite month: Choose from January to December. Can be changed anytime.
Favorite character: Choose from all the available characters in the game, from the Tsukiuta. Series, the SolidS Series, the ALIVE Series, the Wizard Twins Lico & Gli, and John. Can be changed anytime.
After filling the areas out, press the top most button on the button to proceed. The two yellow buttons underneath are "Privacy Policy" and "Contact Support". The yellow button on the top right of the screen is for users who already have game data.
Choosing Your Avatars
Edit
After finishing your registration, the game will now ask you to select your first pair of avatars from the 12 pairs from the Tsukiuta. Series. This cannot be changed later on so be careful of your choices. Other characters/avatars can be bought from the in-game store with coins that can be received either via log-in bonuses, event rewards, or actually purchasing them.
The game will run you through the basic areas, such as the Home Screen, the Change Outfit area, and the Game area. More information can be found [here]. After clearing the brief tutorial, you are now free to navigate the game as you please.
Ad blocker interference detected!
Wikia is a free-to-use site that makes money from advertising. We have a modified experience for viewers using ad blockers

Wikia is not accessible if you've made further modifications. Remove the custom ad blocker rule(s) and the page will load as expected.